Just a reminder for graduating seniors in South Haven. It is time to think about the
This scholarship was established by Dr. Fred Leavitt, DDS, for the purpse of recognition and support of an outstanding science student in the current graduating class of South Haven High School..
Amount: $500 (contingent upon verification of college enrollment)
Eligibility: Any senior that has completed the entire South Haven High School science curriculum which consists of physical science, biology, chemistry, physics, and college chemistry. This includes direct credit and dual enrollment courses.
Selection Procedure: The selection committee will consist of current members of the South Haven High School science department.
Criteria for Selection:
Cumulative GPA of at least 3.0
ACT test scores
Anticipated College Major in science related field
One page type written response
2012
Hope you all waved as you saw Dr. Fred Leavitt taking part in the 2011 National Blueberry 5k walk; where he received a medal for 1st place in his age group!!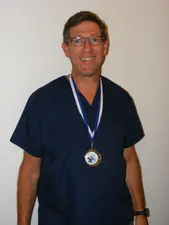 South Haven Family Dentistry Science Scholarship